Welcome to the Imperial Archives! The main source of information in the Galactic Empire. Be sure to check out the Editing Protocol before making new pages or editing articles. If you need help feel free to contact the Archives manager at archives@swc-empire.com !
James Hudson
From Imperial Archives
This article has been an Imperial Archives featured article.
James Hudson
Biographical Information
Race
Hapan
Homeworld
Coruscant
Mother
Unknown †

Roselyn Tenaile (Adoptive)

Father
Unknown †

Mark Tenaile (Adoptive)

Spouse
none
Siblings
none
Children
none
Born
Coruscant
Imperial Service
Branch

Imperial Navy
Positions
Current:
Prior Service
* Navy Command - Navy Signals Officer
Awards
James Hudson is a 36-year-old Hapan male, who currently is serving in Navy Command as the Navy Executive Officer, he has previously served as the Fleet Commanding Officer of the 1st Imperial Fleet, Navy Training Officer and Navy Signals Officer as part of Naval Command in His Majesty's Imperial Navy.
" Amat Victoria Curam "
— Victory likes careful preparation

Photographed after a successful Operation claiming new territory for the Empire with the First Imperial Fleet
Biography
- Prelude
Born on Coruscant and brought up by a Hapan Family, Hudson never truly knew of his parents who were killed in a rebel insurrection in the Outer-Rim. Spurred on by self determination, Hudson lives his life to set standards to do his parents proud. Hudson's military career began as a teenager enlisting at the age of sixteen in the Imperial Navy Cadets, showing extreme skill as a leader and as a capital vessel commander in simulation, his determination and passion for the Imperial Navy drove him and by the time he reached enlistment age he passed the Imperial Academy's Basic Training with Honours.
One of the few photos of Hudson in his civilian attire
Military Career-
- The Beginning
After passing the various Imperial Academy examinations, Hudson was accepted at the rank of Crewman [E-2] into the Imperial Navy. Serving as a pilot in a well established fleet he knew from the offset that being part of the Imperial Navy was the Career for him. Serving in the Galactic Core in the Tenth Imperial Fleet, Hudson felt more than happy within the Fleet. As time passed he worked his way through the ranks reaching seniority within the Enlisted proving to be a valuable member of the Fleet, setting standards on operations and new peaks on patrols and combat exercises. During the reform of the Imperial Navy, Hudson had proved himself worthy of a commission to the rank of Ensign [O-1] from this point on the newly promoted Ensign knew that he wanted to go all the way in the Imperial Navy setting new standards and becoming a legend within the Navy. From this point on Hudson was focused on proving that he was capable of becoming a Commander and after nearly a year of hard work he earned the position of Executive Officer within the Tenth Group in the First Imperial Fleet which was formed from the remnants of his past fleet during the Military Restructure. He found great fondness for the unit serving with individuals who had developed Hudson as a pilot as well as a Officer and continued as Group Executive Officer for a lengthy tenure.

- Unit Command
Settled in his position as Executive Officer, the tide of change soon took it's toll and Hudson was soon instated to the position of Commanding Officer alongside promoted to the rank of Lieutenant Junior Grade [O-2] becoming one of the lowest ranking Commanding Officers of his era. With one of his life ambitions complete he soon knew he wanted to go further, aiming to set the standards for all units of his class working tirelessly to ensure his group was the best and was known throughout the Empire and the Galaxy as been one of the most capable and revered units. During his time as Commanding Officer, Hudson passed scrutinising tests and screening to work with the Department of Military Intelligence as a Military Intelligence Officer, although many of the exploits under this role are classified, Hudson fully enjoyed this role broadening his abilities as a Navy Commander shaping who he became to this day.

- The Department of Training
As time moved on Hudson soon progressed to aid the Imperial Navy in a further capacity, assuming the role as Navy Training Officer; a newly instated role to ensure the ongoing development of the Imperial Navy and His Majesties Fleets. Hudson worked tirelessly creating this role and created the Department of Training, as a member of Navy Command, the Commander ensured the ongoing development and improvement of the Imperial Navy, hosting the widely renown Imperial Navy Tournament that was celebrated as a featured event in the Navy calendar. Leaving his role in Military Intelligence as well as his now two year span as Commanding Officer of the 10th Group in the capable hands of his Executive Officer and close friend Lieutenant Junior Grade Sal Takla, he felt comfortable that his legacy would live on within his former unit whilst Hudson focused on his new full time role as Navy Training Officer as part of Navy Command.

- The Imperial Navy Tournament
One of the creations during Hudson's role as Navy Training Officer was the creation of the First Imperial Navy Tournament, a tournament hosted biannually to test the skills of pilots within the Imperial Navy. Pilots are tested and selected from each fleet to represent their fleet in their respected division within the Imperial Navy; Capital Command or Starfighter Command. The Tournament takes over a week and rotates where it is hosted annually, the first tournament being hosted in Coruscant and the First Imperial Fleet provided honour guard. The Tournament consists of one vs. one dogfights between fleets individual elite Capital Command and Starfighter Command pilots until the best pilot in each of the divisions is found for the Tournament, given the title of Imperial Navy Capital Command Champion and Imperial Navy Starfighter Command Champion.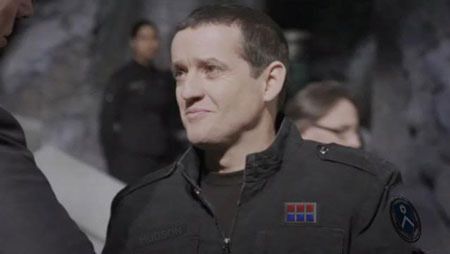 Captain Hudson returning to his former fleet as its Commanding Officer (Year 14)
- Fleet Command
Returning to his former home with great relief, the Commander took the position offered to him by the Lord Admiral to become the Fleet Commanding Officer of the 1st Imperial Fleet with great pleasure, with it being his former fleet and still many of his comrades residing within the fleet it was a very simple question for the Commander. For years the Commander looked up to great aspirational figures such as former Lord Admiral Titan and Lord Admiral Blackrain and one of his longest known mentors Rear Admiral Ranson Sharp, recalling their tenure as Fleet Commanding Officers. Determined to maintain and develop the already sterling fleet, the Commander was persistent to ensure a high level of standards as well as combat effectiveness was maintained across the fleet, ensuring the time old fleet motto remained 'Nothing Can Stop the First!'.

- Operation Minsk / The Battle of Churnis
Otherwise known as the The Battle of Churnis, Operation Minsk took place within the Churnis Sector, seeing the 1st Imperial Fleet alongside it's counterparts the 1st Imperial Legion taking up offensive operations against the Zann Consortium alongside other governments and organisations that wished to take control of the Churnis Sector.
The 1st Imperial Fleet saw action halting the initial advance of the Zann Consortium's ground forces across the Sector up until the arrival of the 1st Imperial Legion which brought about the stall of the Consortium's offensive, from that point on the fleet began conducting intelligence operations and air to ground co-ordination with the 1st Legion to bring about the withdrawal of all Consortium forces within the Sector. Joint-Arms operations during the conflict lead to the arrest of two individuals wanted by Imperial Intelligence for crimes against the Empire, Fleet Admiral Igorod Krakatoa the commanding officer of the Triumvirate Navy and leader of their Operations within Churnis and an arrest of a Sunguard Officer that lead to the subsequent arrest of Imperial Defector Borijov Goerke.
Operations within the Churnis Sector lead to the 1st Imperial Fleet being awarded a Campaign Medal.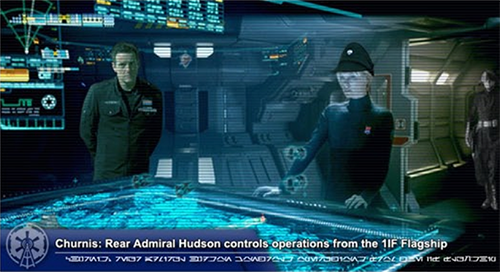 Rear Admiral Hudson managing operations during Operation Minsk (Year 15)
Service Record
Ranks Held
| Grade | Insignia | Rank | Time held (Combine Time) | |
| --- | --- | --- | --- | --- |
| [E-1] | | Recruit | Year 11 | |
| [E-2] | | Crewman | Year 11 | |
| [E-4] | | Flight Corporal | Year 11 | |
| [E-5] | | Flight Sergeant | Year 11 | |
| [E-6] | | Staff Flight Sergeant | Year 11 | |
| [E-7] | | Master Flight Sergeant | Year 11 | |
| [E-8] | | Command Flight Sergeant | Year 12 | |
| [O-1] | | Ensign | Year 13 | |
| [O-2] | | Lieutenant Junior-Grade | Year 13 | |
| [O-3] | | Lieutenant | Year 13 | |
| [O-4] | | Lieutenant Commander | Year 13 | |
| [O-5] | | Commander | Year 14, Day 73 | |
| [O-6] | | Captain | Year 14, Day 192 | |
| [O-7] | | Senior Captain | Year 14, Day 331 | |
| [C-1] | | Commodore | Year 15, Day 16 | |
| [C-2] | | Rear Admiral | Year 15, Day 225 | |
| [C-3] | | Vice Admiral | Year 17, Day 15 | |
| [C-5] | | Fleet Admiral | Year 17, Day 175 | |
Positions Held
Navy Executive Officer, Navy Command
Preceded By:
Hack Skice
James Hudson
Year 17 Day 175
Succeeded By:
Incumbent
Navy Signals Officer, Navy Command
Preceded By:
Tonan Brang
James Hudson
Year 16 Day 287
Succeeded By:
Incumbent
Navy Training Officer, Navy Command
Preceded By:
None
James Hudson
Y14 D76
Succeeded By:
Jacen Varos
Commendations
Current Awards
Navy Cross [NC] • Imperial Achievement Medal [ACH]
Navy Medal of Progress [NMP] • Group Command Medal [GCM] • Unit Distinctive Service x2 [UDSx2] • Imperial Activity Medal [IAM]
Imperial Campaign Medal [ICM] • Unit Distinctive Service [UDS] Certified Imperial Intelligence Agent [CIIA] • Letter of Commendation x3 [LOCx3] •Imperial Service Medal - 3 Years [ISM-4]
Imperial Intelligence Service Award [IISA] • Imperial Academy Bachelor Graduate - Honors [IABG-H] •Mentioned in Dispatchers [MID] • Imperial Monthly Meeting - 12 [IMM-12]

Unit Accolades
Awarded accolades to a unit that James Hudson served as Commanding Officer of:
Unit Distinctive Service [UDS] • Unit Distinctive Service [UDS] Imperial Campaign Medal [ICM]
Character Description
Appearance
Although young on paper, Hudson does show his age via his aged complexion, bolstered by his cigar smoking habits and operations in stressful environments. Clean shaven with a short hair, there is nothing distinctive about Hudson's appearance other than his trademark smirk, those who have served with and under Hudson will most likely tell you that he is a cold and emotionless character that puts his duties first, only a select few will tell you otherwise, mainly those who served closely with him in his career.
A man of tradition, Hudson is rarely seen out of his military attire, mainly found wearing his grey Imperial Navy Uniform, slightly unfastened at the top with the 1st Imperial Fleet crest on the right hand arm patch. Always with his rank holder polished finely and awards in addition depending on the occasion, it is clear that he takes pride in his profession. It has been known on operations that Hudson has operated on ground level that he wears a standard issue Imperial Kinetic Armour with his rank holder fastened to it, sporting a pair of bright white Micro-Binoculars and a snow camouflage A-295 slung behind his back, Hudson is known to lead from the front.
Personality
The most common characteristic of Hudson's personality remains his placid attitude, no matter how grave the situation he keeps a cool frame of mind and often plots his way to a success one way or another. A keen organizer and commander, he enjoys been informed of all the activities within his unit no matter how small he looks at the micro detail as well as the big picture to refine his units to perfection, alongside organization he is a keen planner, his tactical planning is something that he considers key to the success of any mission or operation he conducts, some of these characteristics are things which many associate to the success of the First Imperial Fleet during his tenure.
If you ask those who serve under Hudson, the two words that will most commonly spring to mind is 'Cigars and Whiskey', Hudson does not drink on duty but enjoys the odd tipple and can often be found with the Officers and Enlisted in the mess hall of his Star Destroyers, he stands to an ethos of a 'man of the people, not a man against the people'. Hudson's cigar smoking habits extend to most of his career in a leadership position, it helps him keep his cool and his edge and its common to find an ash tray on the bridge of any Star Destroyer he commands, hand rolled Kuati cigars is his main selection which are sealed in a special container in his quarters.