Welcome to the Imperial Archives! The main source of information in the Galactic Empire. Be sure to check out the Editing Protocol before making new pages or editing articles. If you need help feel free to contact the Archives manager at archives@swc-empire.com !
K`Crydon Katana
From Imperial Archives
K`Crydon Katana, M.D.
Biographical Information
Race
Human
Homeworld
Coruscant
Mother
Unknown
Father
Unknown
Spouse
Ariana Katana
Siblings
None
Children
None
Born
Year -18
Imperial Service
Branch

Imperial Army
Positions
Infantryman, BXO, BCO, LXO, Medical Director
Prior Service
First Imperial Legion
Awards
See below
"What we do, is so that others may live"
— K`Crydon Katana to students of the Imperial Medical Corps

K`Crydon Katana, M.D., also known as "Doc", was a former Infantryman in the Imperial Army, and Medical Director of the now defunct Imperial Medical Corps.
Early Life
Katana was born on a refugee ship headed towards Coruscant. He was abandoned by his parents and ended up in an orphanage. Katana, unlike his friends and peers, had little to no interest in finding out who his parents were. He also did not want to get adopted. His childhood was fastpaced, as he was rushing to get into adulthood. During high school, Katana started to drink and had been busted numerous times for underage drinking. After his graduation, Katana gathered his things and boarded a ship to Coronet, Corellia, to start over and escape the big city.
Katana worked as a bartender for nearly a year. He enjoyed the job, but the pay was substantially low. He began to miss payments for rent, and was nearly evicted from his apartment.
Katana was working a shift for a friend when tragedy struck. Right outside the cantina, two speeders had collided headon going at a high rate of speed. Everyone rushed outside to find one speeder minimally damaged with the other significantly damaged. Katana ran to the heavily damaged speeder to find the driver, a young female, entrapped and in serious condition. There was also a young girl in the back who was fatally injured as she was not restrained.
Emergency services were called upon, and Katana waited helplessly as the female died while holding his hand. Katana went home that night deeply depressed, and promised himself that he would never be that helpless in a situation like that ever again. It was this event that sparked Katana's passion for helping others.
Early Medical and Firefighting Career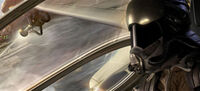 Katana, during his years as a Coronet Firefighter.
Katana enrolled in emergency medical technician (EMT) school for six months. He excelled at his studies and when he finally became certified, he worked as an emergency dropship medic for a local emergency medical service.
Katana became more interested in civil service and enlisted in the Coronet Fire Deparment. He worked as a firefigher at CFD Station 7, charged with fire suppression and rescue services in a part of the northern district of Coronet. With this honorable profession came valuable experience in rescue operations as well as the gritty world of "street medicine" as a medical first responder. It was here, he developed a lifelong friendship with fellow firefighter and later Imperial Soldier Kaiden Halcyon.
Although Katana's main job was rescue and firefighting, he still maintained an interest in medicine but could not afford to attend a university. It was then he learned that by enlisting into the military, he may have his education covered. The Imperial Army offered testing to enter its ranks annually, and gave preference to civil servants such as Coronet firefighters. After a few years of working as a firefighter and reaching the rank of Senior Captain, Katana left behind his career as a firefighter and enlisted into the Imperial Military.
First Imperial Tour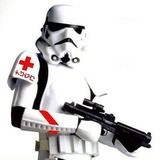 IMC Medic
Entering the Imperial academy as a part of the class of Mid Year 7, Katana was the longest serving of his classmates.
After graduation, Katana joined the Imperial Army and was a part of the First Imperial Legion. When he was promoted to Sergeant, Katana assumed command of the Infantry Brigade. Months later, he became the Legion Executive Officer as a Sergeant Major under Second Lieutenant Cliff Chan.
Cliff Chan, Katana, and Zenchi Senkusha were known as the brothers of fortune in the army, due to their effective handling of missions together. The three were praised numerous times by their commanding officers.
After one year of service, Katana had reached the rank of Command Sergeant. Katana was appointed by Brigadier General Mintaka Kyuzo as the Imperial Medical Director for the Imperial Medical Corps. With this title, Katana began to train units from all branches on Combat Medicine. At completion of the course, Katana awarded the graduates with Combat Medic certifications.
Discharge and Medical Career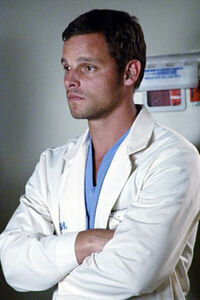 Katana, during his residency at Meridian Memorial Hospital
Katana wished to obtain a formal medical education but was continually denied from Army High Command. Then, against direct orders, he left to attend medical school, resulting in a AWOL status from the Imperial Army.
He traveled to the Meridian Sector, and went to school and became a licensed paramedic for Curador EMS, the emergency medical service owned by Biotech. While working there, he attended medical school for four years, receiving the title of doctor. He specialized in emergency medicine.
Katana worked in the emergency department as the attending physician, until he was promoted to the hospital system's medical director. Afterwards, he was promoted to Chief of Medicine of Biotech, overseeing the company's operations. He brought Biotech from a state of inactivity to a major medical provider with multiple contracts.
Katana left Biotech, and was hired at Republic Medical as the assistant operations director in charge of the Republic Medical Surgical Unit or RMSU. The RMSU operated far differently than the IMC. Each of the members held a civilian status, with no line rank with the military, compared to the IMC where each member was actively serving in the military. The RMSU also had a much larger fleet than the IMC; with hundreds of "mobile hospitals", compared to the IMC which depended more heavily on Sentinel-Class Landing Craft converted into Med-Evac dropships and a few Nebulon-B Medical Frigates. The IMC also did not assist civilians and were dedicated to only military personnel. Perhaps the greatest difference between the RMSU and the IMC was that the RMSU had no tactical training, and were rarely deployed to the front lines.
The RMSU, being mainly a civilian force, did not have a strong chain of command. Most task forces were mock-up, mixed with personnel of different divisions. The medical training provided was basic and generalized compared to the medical training of the IMC, but was much more greatly organized. Katana, and the operations director made an attempt to train the personnel in tactical medicine, so that they may be deployed to assist units on the frontlines. But being the nature of the group and their previous training to avoid danger at all costs, his attempts were unsuccessful.
The RM leadership also operated on a "Good ol' boy" system in which friends were placed into command positions rather than qualified personnel. During one incident, a friend of the RM CEO replaced a vacant position on the director board, the operations director condemned the action, stating that the CEO did not follow the by-laws which clearly state that a person must be voted onto the board. Disregarding the operations director, the person in question was placed on the board. This resulted in the resignation of the operations director. Katana shortly resigned as well.
Return to duty
Brigadier General Bacara Kex, then head of Army High Command, consulted with Katana about returning to active duty. Due to Katana's act of going AWOL, he had to sustain a disciplinary action of being demoted 3 ranks, returning him to Sergeant First Class. Katana accepted, and was reinstated to the Army.
As a Command Sergeant, Katana received an automatic commission as an Army officer of the Imperial Army as a Second Lieutenant on Year 11, Day 307 as part of the rank restructuring program.
2LT Katana served in various positions such as news contributor for the Imperial News Service, Recruiter for the Imperial Centre for Recruitment, and as the Executive Officer for 2nd Brigade, 2nd Imperial Legion under 1LT Calvin Fathing.
Death
K`Crydon Katana died of sudden cardiac arrest on Year 13, Day 169. He is interned at the Coronet City National Cemetery.
Service Record
| Grade | Insignia | Rank |
| --- | --- | --- |
| [E-1] | | Recruit |
| [E-2] | | Private |
| [E-5] | | Sergeant |
| [E-7] | | Sergeant First Class |
| [E-9] | | Sergeant Major |
| [E-10] | | Command Sergeant |
| [O-1] | | Second Lieutenant |
Awards
| Ribbon | Name |
| --- | --- |
| | Imperial Academy Basic Graduate |
| | Letter of Commendation |
| | Brigade Command Medal |
| | Tactical Essay Contest |
| | Imperial Recruitment Medal |
| | Exercise Achievement Medal |
| | Imperial Service Medal - 3 Years |
Positions Held
1st Imperial Legion Executive Officer
Preceded By:
Vasil Doombringer
K`Crydon Katana
Year 8 - Year 9
Succeeded By:
Zenchi Senkusha