Welcome to the Imperial Archives! The main source of information in the Galactic Empire. Be sure to check out the Editing Protocol before making new pages or editing articles. If you need help feel free to contact the Archives manager at archives@swc-empire.com !
Shiraishi Tadayoshi
From Imperial Archives
Shiraishi "Yoshi" Tadayoshi




Brigadier General Shiraishi Tadayoshi
4th Brigade Commanding Officer
Deputy Director of IGC
Imperial Liaison, CorSec

Biographical Information
Race
Kiffar
Homeworld
Coruscant
Mother
Sakura Shiraishi (Deceased)
Father
Takuma Shiraishi (Deceased)
Spouse
None
Siblings
None
Children
None
Born
Year -8 Day 270
Imperial Service
Branch
Positions

4th Brigade Commanding Officer

Prior Service

4th Brigade Executive Officer
Legionnaire

Director of CorSec
Assistant Director of CorSec
Commander of Tactical Response Team

Awards
Shiraishi Tadayoshi (born Year -8 Day 270) is a male Kiffar from Coruscant. He is the former prince of the Tadayoshi Dynasty, and is currently commissioned as a reconnaissance officer in the Imperial Army. After distinguishing himself in the Regional Government, he transferred back to the reconnaissance corps where he now holds the position of 4th Brigade Commanding officer as a Brigadier General and is serving his heart and soul in the Imperial Army.
Early Life
Shiraishi Tadayoshi was born into the Tadayoshi Royal Family on Coruscant in the waning years of the Clone Wars. As the only child of Takuma and Sakura Tadayoshi, he was the heir-apparent to the throne. Despite his royal blood, his parents enrolled him in a conventional school for him to understand and appreciate exactly the kind of life he had been born into. His experiences in the standard Coruscanti education system would prove to be a boon later in life, and he gained many friends. Unfortunately, tragedy would strike the Tadayoshi family. In a grab for power, a rival faction attempted to eliminate the Tadayoshi Royal Family; this attack left his mother dead, his father injured, and Shiraishi psychologically scarred. It was believed in some circles, that those responsible belonged to the Lycordan Royal Family.
As is often the case in the politics of royalty, Shiraishi was arranged to marry Lady Angelic of Lycorda to formalize the union of their two nations. Early in Year 12, Shiraishi and his closest friends -- Arlen, his royal advisor; Virgilio, his bodyguard; and Gino, a lifelong friend from school-- set forth for Lycorda. This would stabilize the political tensions that had existed for nearly two decades since the murder of his mother.
Once more tragedy would strike. En-route to Lycorda, the party received communications from the royal palace that there had been an attack. Upon returning to the city, they find it blockaded and instead search for a vantage point. Shiraishi was forced to watch, helplessly, as forces unknown bombarded his home with artillery. The group received another communication, this time on unencrypted channels: Shiraishi and his father are declared dead in the attack and Lady Angelic is said to have been murdered in a coup-d'état.
At this point, the four of them realised that they had to leave the planet; there was nothing they could do. But their enemies had been one step ahead of them. At the spaceport, Shiraishi and company came under attack. Shiraishi managed to escape the planet, but his friends were forced to stay behind to ensure that he could escape.
With nowhere to go and no one to turn to, Shiraishi set out to gain the strength necessary to avenge his friends and family.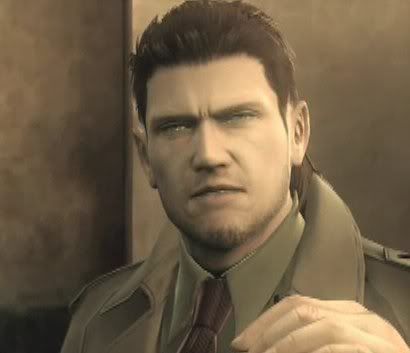 A picture of a younger Shiraishi when he was arriving to the Imperial Academy
Military Career
The Academy
Shiraishi Tadayoshi enrolled in the Empire in the early part of Year 15 at the age of 23. As with every other recruit, he attended Imperial Basic Training at the Imperial Academy on Prakith--his royal upbringing brought him no special favour within the Empire. Academy life was rigorous and demanding: social time was limited to one hour in the evenings on weekdays and three hours on weekends; Academy standards required a minimum grade of seventy percent on all materials. A recruit that scored less than seventy percent was often expelled immediately. coring less in even one subject and a student was immediately expelled.
When students weren't attending lectures or studying in their dorms they were expected to perform physical training, take part in basic weapons handling, and complete extra-curricular activities. Recruits who failed to do so often saw mediocre careers within the Empire. Shiraishi, however, took this all in stride and thrived in the military environment. The three years between being exiled and joining the Empire served him well.
During his time at the Academy, he consistently placed in the top one percentile of his class and showed an exceptional grasp of military tactics. His initiative and firm grasp of warfare, along with his pre-Imperial experience, would draw the attention of The Throne itself.
Shiraishi graduated the Academy with honours and was immediately commissioned into the Imperial Army as a Second Lieutenant.
Regional Government
Upon graduating the Academy, Shiraishi was approached by a representative of the Imperial Throne. Due to his outstanding performance and background, The Emperor and Lord Seele were offering him a special position as liaison and military attaché to CorSec. Shiraishi accepted and began his duties of ensuring that their officers and security forces were up to par and able to carry out their jobs to the highest standard.
In years prior, CorSec's forces had been rife with corruption, poor training, and general abuse of power. This caused a drain on Imperial resources as they were required to constantly send their own manpower. It was hoped that Shiraishi Tadayoshi could aide in rectifying this. To give him more authority in his duties, Shiraishi was attach-posted to the Regional Government and promoted to the rank of Senior Superintendent. After excellent performance in bringing CorSec in line with an organisation of their stature, Senior Superintendent Tadayoshi was promoted to Prefect.
Imperial Army
For the next six months, CorSec continued to improve, and the time came when he was no longer needed. He was transferred back to the Army and, in recognition of his service, was allowed to hold his rank of O-4: Major in the Imperial Army Reconnaissance corps. In short order he was appointed as the Executive Officer of the 4th Brigade and then Commanding Officer, a position he holds to this day as Brigadier General.
Personality & Traits
Personality
Inwardly, and amongst his few close friends, Shiraishi is a shy individual. Outwardly, he displays a sense of confidence, strength, reliability -- all traits of model Imperial officers. Due in part to his feelings of helplessness when his father was killed, Shiraishi strongly feels that it is his sole duty to protect the Empire and its citizens. Further to this, he emphasises loyalty above all else and will gladly lay down his life for the Empire.
He views his fellow officers and the soldiers under his command as family, and will stop at nothing to ensure their survival--but not at the cost of his duty to the Empire. Shiraishi is the embodiment of the mantra "Service-Soldiers-Self". However, he is known to have zero-tolerance for mistakes and ensures that his subordinates are punished in accordance with their infractions.
His royal upbringing is evident in his body language, poise, and posture, in contrast to some of his peers.
Appearance
Visually striking, Shiraishi's features would not typically belong to a young man in his twenties. However, years spent on the run and fighting for the Empire have left him ragged. His mid-length hair is often unkempt, and he can often be seen with a beard. One of his most distinctive features is his piercing-blue left eye which has been known to appear ruby red. The other feature is the eyepatch worn over his right eye, rumours abound as to its purpose: whether it covers the lack of eye or is actually a concealed system of highly advanced optical sensors.
While off duty, Shiraishi is typically adorned in a black, single-breasted suit, emblazed with skull-motif buttons and very faintly sequenced details.
While on garrison duty, Shiraishi proudly dons the standard gray-green Imperial Army officer's uniform with the exception of the brimmed cap. Replacing the cap is a green beret with the cap badge of the 4th Brigade. In the field, his battle dress is a modified version of the standard-issue plastoid Stormtrooper armor. Rather than sporting the standard white finish of most models, Shiraishi's was a more metallic silver-white polish. In addition to the factory-installed optical components, Shiraishi took the initiative to upgrade the helmet with macro-binoculars and a suite of sensor and tracking systems. Thanks to these upgrades, he is able to carry fewer pieces of equipment which in turn allows him to better accomplish reconnaissance missions where stealth is of the utmost importance. To further increase his odds of success, his armor is fitted with an advanced form of optical camouflage rendering him nearly invisible to biological life forms and a suite of anti-sensor systems.
A Picture of Shiraishi in his Stormtrooper armor, while on a classified mission
Imperial Service Event
Joined the Empire - Y15 D121
Graduated Imperial Academy with Honors: Y15 D126
Joined the Imperial Army - 2nd Lieutenant
Was offered a position in the Regional Government and become the Imperial Liaison for CorSec by the Throne
Was promoted to O-3 by the Throne, to hold a Imperial Rank
Promoted to Perfect O-4 for duties in CorSec: Y16 D49
Transferred back to the Imperial Army, with rank reduction waived - Y16 D227
Became the 4th Brigade Executive Officer: Y16 D249
Became the 4th Brigade Commanding Officer: Y16 D356
Became Deputy Director of IGC: Y16 D358
Promoted to Brigadier General C-1: Y17 D112
Imperial Service Record
| Grade | Insignia | Rank | Time held (Combine Time) |
| --- | --- | --- | --- |
| [E-1] | | Recruit | Y15 D120 - Y15 D126 |
| [O-1] | | Second Lieutenant | Y15 D126 - Y15 D204 |
| [O-3] | | Superintendent | Y15 D204 - Y16 D49 |
| [O-4] | | Prefect | Y16 D49 -Y16 D227 |
| [O-4] | | Major | Y16 D227 - Y17 D112 |
| [C-1] | | Brigadier General | Y17 D112 - Present |
Awards
| Ribbon | Name | Date Awarded | Awarded by |
| --- | --- | --- | --- |
| | Imperial Academy Basic Graduate - Honours [IABG-H] | Y15 D126 | Everard de Montfort |
| | Medal of Support [MOS] | Y15 D142 | Lord Seele |
| | Letter of Commendation [LOCx2] | Y16 D223 | Everard de Montfort |
| | Imperial Service Medal - 2 Years [ISM-2] | Y16 D225 | ISB |
| | Imperial Monthly Meeting [IMM] | Y16 D295 | ISB |
| | Mentioned in Dispatches [MIDx3] | Y16 D303 | Graeda L'Annan |
| | Brigade Command Medal [BCM] | Y17 D175 | Emillio Peares |
Positions
4th Brigade Commanding Officer
Preceded By:
Liam Conrad
Shiraishi Tadayoshi
Y16 D357 - Present
Succeeded By:
Fede Vonrico
Deputy Director of IGC
Preceded By:
Carlo de Leon
Shiraishi Tadayoshi
Y16 D358 - Present
Succeeded By:
Incumbent
Imperial Liaison, CorSec
Preceded By:
None
Shiraishi Tadayoshi
Y15 D165 - Present
Succeeded By:
Incumbent